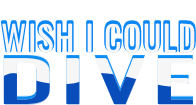 Wish I Could Dive
Wish I Could Dive is an action-casual game where you control a little bird that pretends to be a fish: run through bubbles with perfect timing and avoid corals and jellyfish along the way!
[ The final score is calculated by Meters + Fishes ]
This game was made roughly in 4 days (I started late as always) for the Weekly game jam #132 with the theme "Deep Dive".
Controls:
- Mouse click anywhere to jump out of the bubble in the arrow's direction.

Credits:
All the assets were made by me from scratch for this jam, except for the bird and fish (I created those back in the days, so I chose to edit them in order to have more time prototyping).
8bit sound effects made with Bfxr.
Background music by Playonloop.
A game made by havana24.net
Follow me on twitter @hav24