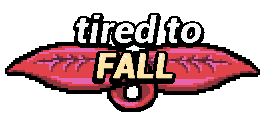 Tired to fall
Tired to fall is a puzzle-platformer game where you control a little leaf that is tired to fall every Autumn! Help him get back on the tree by launching and planting other leaves and transform them as new platforms! Glide in an undergrowth full of spikey chestnuts, acorns and cannon-mushrooms!
This game was made with #Godot in 20 days for the #GreatAutumnGameJam2021 a game jam with the theme "Autumn".
Follow me on twitter if you like my game @hav24
Controls
- Arrow keys or WASD to move.
- "X" or "B" to jump. Jump and hold to perform a glide.
- "C" or "N" to launch a buddy and plant it.
- "R" to reset.
The goal is to reach the yellow fungus in each level.

Credits
All assets were made by me, Alessandro Pezzetti aka havana24.
8bit sound effects made with Bfxr and Freesound.
Background music by Playonloop.com.
Game made with Godot.
A game made by havana24.net Twitter @hav24