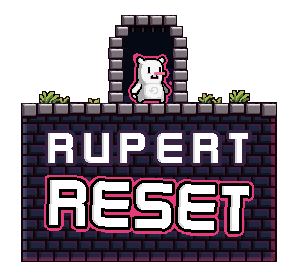 Rupert Reset
Rupert Reset is a puzzle platformer game where you can control and reset objects in the stage just by pressing the big reset button in the level.

This games was made in 10 days for the Stency Game Jam #19 with the theme "Reset".
Follow me on twitter @hav24

Controls:
- WASD or Arrow keys to move Rupert.
- Press the big fucsia button in the stage to reset objects with a fucsia outline.
- You can bump on tutrtles and throw them.
- "R" to restart the level.
- "M" to mute/unmute.
- "ESC" to main menu.
Credits:
All the assets were made by me from scratch for this jam.
8bit sound effects made with Bfxr.
Background music by Playonloop.
Pixel font by Kenney.
A game made by havana24.net